Fallen Matthew
Most of you folks griping about "white feminism" and how ain't shit the march was are the same who abide vanity projects of your own and emulate notoriously ineffective, indulgent behaviours.
Becky is wack af "turning out" to snap pussy hat selfies underlain with Harry Potter quotes and naïve idealism founded in fact or fiction.
But, aren't you doing the same on the regular? Ain't y'all the same who say "People can only boycott/march/do what they can"? Like, be honest. You don't do "what you can." You do nothing.
Folks are more intent to patronage than the prospect of equal, even cheaper alternatives; but urge others who "can," to boycott/march/protest/etc.
What's the point?
I'm not saying you ain't shit if you don't boycott/march/etc. I'm saying, fixing your mouths to drag something/someone you deem indispensable but "boycottable" or worth marching for others seems hypocritical. "Power to the people, speak truth to power" unless it disrupts your comfort; because for all of its evils, its presence (and your usage) shows it doesn't jeopardize your welfare—as opposed to how it affects folks committed to abolishing it, period.
This is what I mean when I say, "Y'all ain't shit." There's seldom, if any collective or quantifiable initiative that isn't contingent on celebrities or mastered by moderates. And, when it comes to those about that life, it's just crickets or shrugs. OR, as I've stated, sanctimonious platitudes of "don't inconvenience me" when it comes to taking active steps to cutting harm (however minimal) out.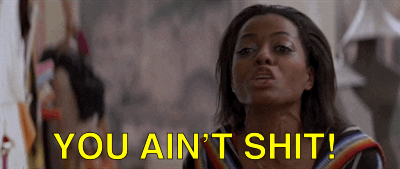 Yet, y'all be talking about "revolution." dafuq you think "revolt" means, bruh? Because, y'all look goofy af fist pumping and hashtagging yet too shook to merely boycott/march/protest/reflect, let alone call in/out your peeps.
Be honest: if revolution came knocking, you wouldn't have the guts; you'd have 100+ excuses to stay your ass home and watch Netflix. Or bop to corny af "artists" who ain't say real shit or who make you make you holler on reality TV.
If revolution knocked on your door, you'd bawl it out and screech, "Let people enjoy things!" FFS, y'all can't even support your own, but stan for strangers: "faves."
Talmbout "Slay, Queen!" as if y'all are anything but dust or peasants to the bourgeoisie or these aristocrats.
Funniest part is that it's these celebs or salaried "activists" assuring you it's okay to be idle; it's okay to "enjoy things." Of course, it's okay for THEM: they get paid, even endorsed. "Revolution" is just a buzzword they've made bank on. They don't get paid if it actually happens.
But, keep making it rain tho. Might not be buying pussy hats and that merch, but you still going broke and fattening wallets; and ain't tossed a dime to pay it forward.
Sit down.